We are in the dog days of summer…. it is too hot for a ginger like me.
I became aware of a really interesting project called Finances of the Nation which seems to be anchored out of UofT with some of the leading economists in Canada involved. They do blogs and commentary on key finance issues in Canada and have an open data page that is really neat.
Mike Moffatt has posted a series of posts on Basic Income and some of the challenges and harms it might posted Part 1, Part 2, Part 3, So for those saying turn the CERB into a (U)BI I would love to hear your rebuttal to these pieces.
My AMA from last week can be found here
On the day that the Third Shift ended at Chrysler's, unemployment numbers came out for Windsor that saw us no longer be the highest unemployed community in Canada.

Unfortunately other communities will continue to go back to work and our rate will likely remain stubbornly high.

Job Hours by wage (in Canada).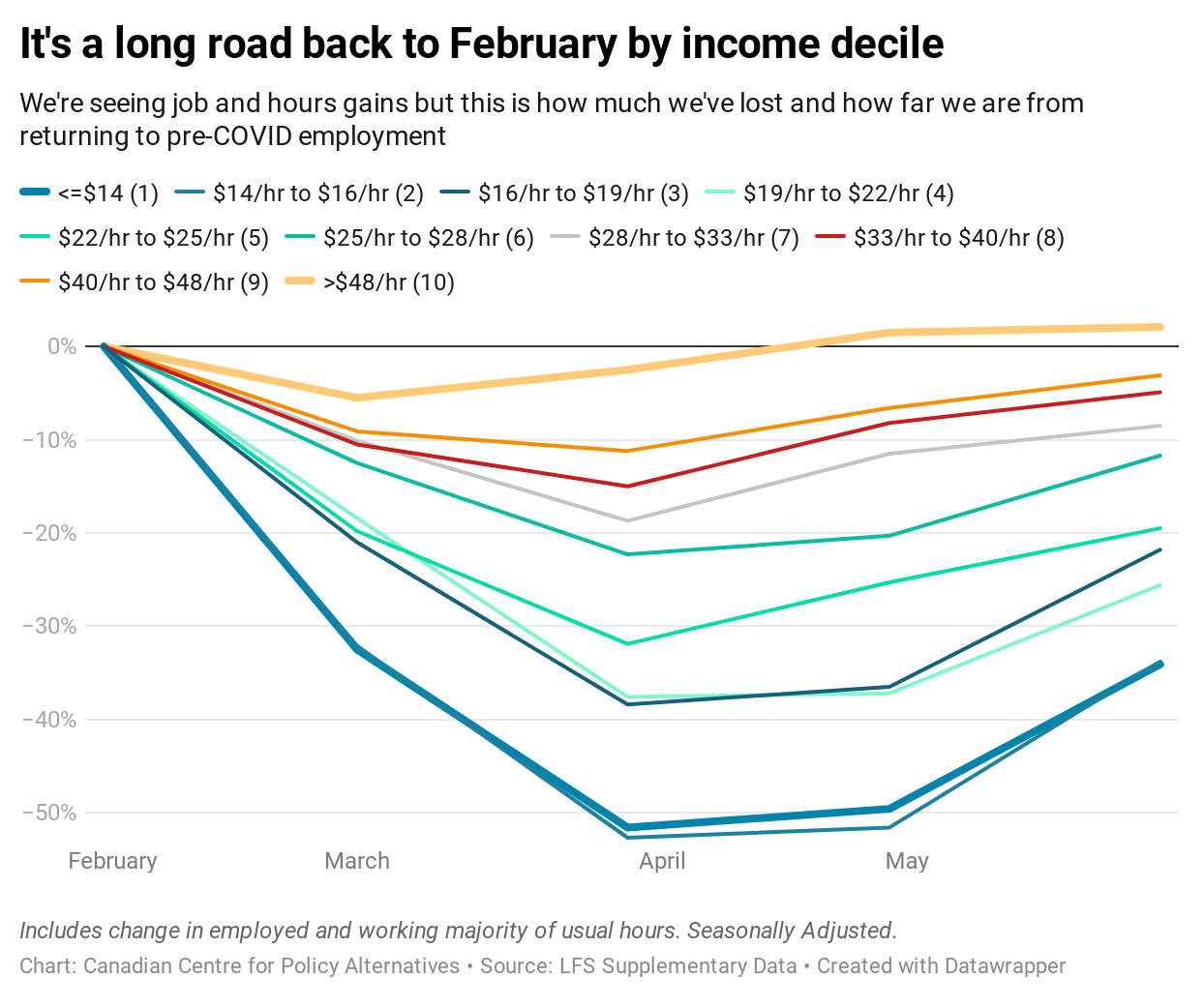 Given everything that is happening in world one of the things we have to look at is how our organizations are structured to perpetuate inequities. Understanding White Supremacy Culture in Organizations is important.
My tomato plants are a little out of control:
The first new Far Side comics in 25 years came out this weekend!!!!!
An even 1,800 cases as of Sunday July 12th.

Controlling for the agri-sector outbreaks – Essex County is only experiencing low to mid single digit cases per day which I predicted will be the new normal.

What might Stage 3 look like?

It will be interesting to see how this roles out and if Windsor/Essex is again considered a single region or if the South Shore gets hived off due to the agri-sector.

An interesting take on what the world might look like in 2022.

Taking some of these projections and applying them locally. The politics of the City will be shaped the by whether or not a bailout comes, how much is not covered and where they find the money.
Business large and small as well as not-for-profits that were already under stress will probably close. Hardest hit will be services and hospitality

The biggest risk that I see comes from Caesars' – currently undergoing a merger/sale the priorities of a new company in the post-COVID world could be very different. The current operating agreement between Caesars and OLG expires July 31, 2020.
Concerts and large scale events maybe 2 years away requiring a wide spread vaccine;
A prolonged closed border keeping american tourists away;
What does the casino floor look like? To apply a generalization but do seniors go and gamble with masks on?

Obviously habits will change.

Windsor's opportunity as a tele-commuting hub for priced out families out of the GTA is real, the question is are we building the infrastructure.
It might be time to dust off WEEDC back office/professional service strategy and push it to the for-front. Landing 100 individual professionals who can now tele-commute to the GTA (or where ever) is probably easier and more efficient than luring a single company.