So the year is half done. I was looking back at a post from December last year my 10 Things to Watch in 2020….. Wow… Did I miss a few things. So I figured it would be fun to do a bit of a Redux. I will touch on my original 10 Things to Watch then look at the rest of the year and see what I can see.
City Budget – The City Budget from what I remember (god who remembers what happened in January) was a relatively cordial process. Of course all of that has been blown up. Although many capital projects are still moving forward, operationally things are going to be challenging for the City and it's agencies (transit). Whether additional provincial or federal support is in the cards remains to be seen. At the next Council meeting will be discussing the financial implications, the 2021 budget will be one to watch but that is a future-self problem.
Big 3 Negotiations – I was pessimistic about this in December, I am doubly so now. With rumours swirling about the Ford Edge's fate in Oakville, COVID hits on car sales and overall economic uncertainty the negotiating position for Unifor this year is almost a mirror opposite of last years UAW negotiations. Are they willing/able to strike during a pandemic, will the public support them or care when unemployment is above 15 percent? I am not an expert on this industry but I honestly believe that there might be only matter of time before the Canadian auto industry meets a similar fate as Australia. So how are we planning for that?
Mega-Hospital/Sandwich South – Waiting for the judge to issue a ruling. Confirmed by the Province to still be 5 years+ out.
Provincial Budget – We didn't see one in the Spring and won't until fall from my understanding. The path to balance is dead, there has been lots of talk of Federal debt due to COVID but how big will the deficit spending be at a Provincial level? What this budget looks like will entirely be conditional on the state of the economy and COVID at the time of release and for the rest of the fiscal year. The bulk of this budget will hold funding that has been announced over the past months the question becomes how quickly do PCs reduce spending going forward?
Municipal Collaboration – OPP are on the way out in Leamington – talk of Essex County Police force has been floated. On the flip side there have been tensions related to the Health Unit and its COVID response. I doubt that much will happen this year now but this will be a long term conversation.
Affordable Housing – The delay on Meadowbrook is a "gut punch". The same question that I asked back in December is what is next? It does seem that migrant housing issues might be starting to be tackled in Leamington but what does that do for the 5,700+ on the housing wait list?
High Water – Water is high, staying high and flood watches have been extended through August for shoreline flooding. A hot dry summer doesn't actually help that much as it is downstream flows that matter more – i.e. how high water is in Lakes Huron, Superior and Michigan determines our water level.
Unemployment – The original table showed from Dec 2018 – Nov 2019. Even pre-COVID holiday season it seems like the data was pointing to something. Friday (July 10) Junes unemployment numbers will be released and we will see how things are going (or not) locally.
Although recovery is coming with people going back to works, layoffs at Chrysler and the feeder plants would not be in this data.
2020 US Presidential Election – It is about 120 days away…. The attack ads are coming! Some good ones are on Twitter already!
Gordie Howe Bridge – Bridge is still getting built, some community benefits are happening… Not much more can be said at this point.
What am I watching Now???
Second Wave – Dread it, run from it, destiny still arrives.
The question is when does it arrive and how bad does it get? With talk of the US border staying closed for a year. We are now in the new normal, working from home; sort of being able to meet people; forever wondering if the person with a cough at the Grocery store is sick. Whether it comes or not, it needs to be planned for and whether it is like a normal flu season or a 1918 surge remains to be seen.
Back to School – This great piece by Lauren Dobson-Hughes really sums things up – mothers and kids are getting screwed. As most of the "re-openings" have benefited men, these decisions will drive equity and opportunity in our community over the next few years. It will be interesting to see what the back to school details are for our local boards, when plans are ready.
The motion passed by Trustee Higgison after a ridiculous 30ish minute debate, on whether or not the school board trustees have scheduled meetings this summer or not will mean there will be some public discussion at some point which is a good thing.
BLM and Diversification – I am not talking about the economy which is what we always think about when we hear the D word. The Mayor and Police Chief are talking about racial issues and a Black Lives Matter survey for community input is in the field (by July 10th) which is a good thing. Mita Williams did a great job dissecting this and offering some of her next steps.
Beyond these initial conversations as I pointed out here in another post; our region's leadership is lacking diversity. So I am watching to see if organizations actually take steps forward. Some organizations and leaders spoke out, others didn't. This change given the nature of Windsor, change won't be at the speed that many want or should demand but hopefully it won't end up like past initiatives that are defunct and largely forgotten. As a hot summer turns into what could easily be a chaotic fall, will the desire for change remain? Will these issues get moved to the corner of peoples desks in the face of a second wave?
CERB Wrap-up – Setting aside a second wave shutting the economy down again when and how the CERB winds down will be a very interesting exercise. For someone in Ontario making $15 per hour they are earning $525 per week (35 hour week) which is only $25 more than what CERB would pay.
There are already rumblings of this in the locally, where staff aren't willing to return to work or positions are going unfilled. This trend is being shared more broadly with economists questioning how to put work incentives into the CERB. To turn CERB off for everyone across the country at the same time would be catastrophic, so the question around how regional variation and work hour requirements.
At the a same time, bonuses to front line workers in the grocery stores have been rolled back and I haven't heard that the bonuses for health care workers are not necessarily permanent, I would expect the provincial budget will feature information on whether they will be made so or clawed back. In many cases these people didn't make much more money than those laid off on CERB – where is the equity in that?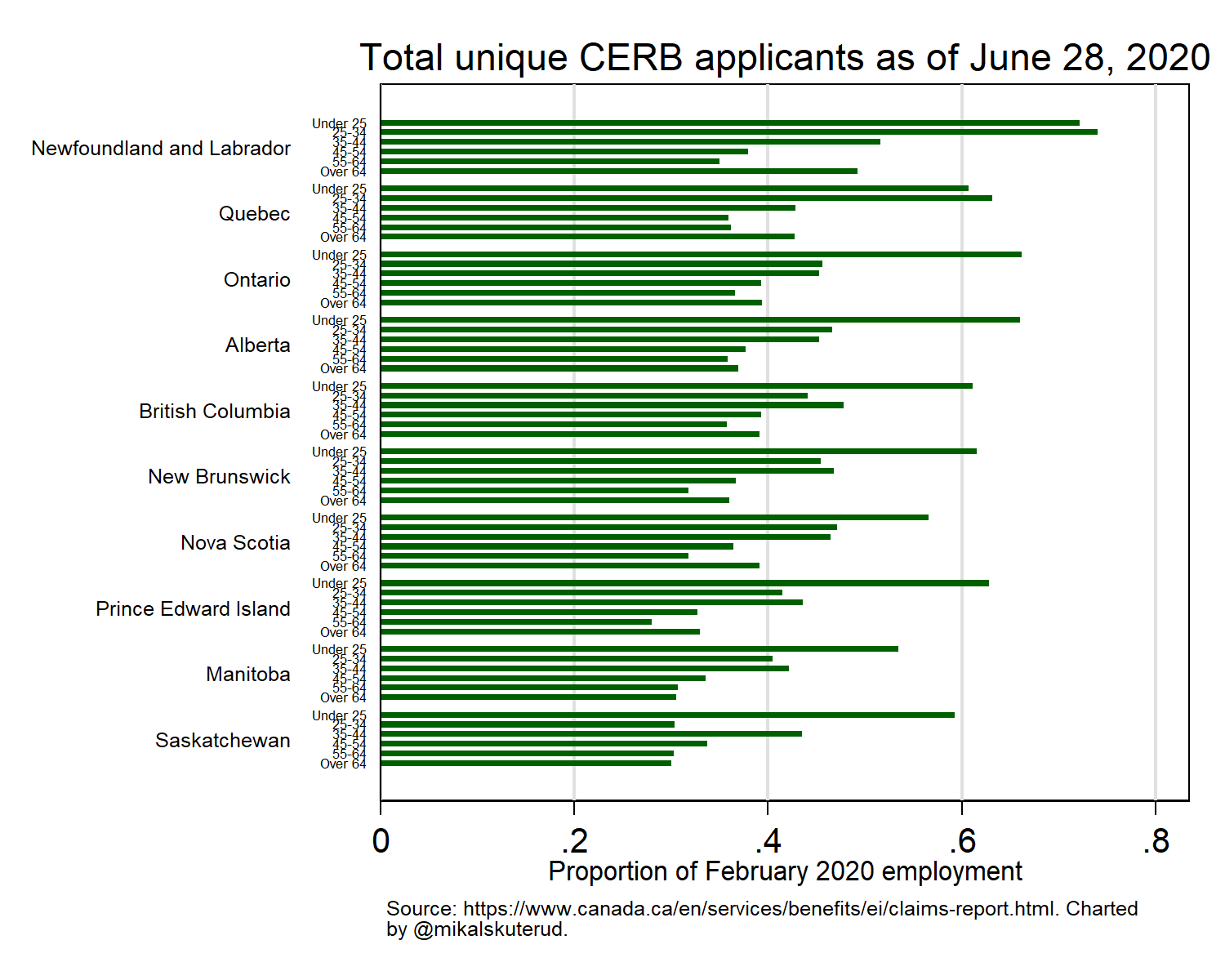 Ward 7 – ¯\_(ツ)_/¯
According to those who I talk too there is no date set for the by-election and until the state of the emergency ends it might not be possible. At some point, someone will win a by-election. That will change the Council dynamics and shape the rest of the term. I don't see a galvanizing issue emerging out of Ward 7 that will capture the rest of the Council's imagination?
The Border – With some predicting the border will be closed for at least a year to recreational traffic…. How we will Windsorites get to Sams Club and their UPS post offices? If Black Friday comes and no one can go shopping the grumbling could begin…
At the same time TWEPI has receive some significant funding to market our region. If there is no international travel, the Casino may stay closed or operate without US customers, and the tourism and hospitality industry is reliant on "stay-cations" during a recession, it could get ugly without US tourist. That being said, I have never seen formal data around how many Americans cross the border to Windsor Essex for tourism.
Laying the Ground Work – We are less than 2 years from the Provincial Election, just over 2 years from the next Municipal and in all likelihood a Federal election will happen next year. Those who are interesting in running for these offices, are laying the ground work now. I personally feel a few Ward 7 candidates are really prepping for a 2022 with trail runs this by-election. Scenarios around if X Councillor doesn't run Y person might do well are already being floated in certain wards and then there is the big chair…. Will Mayor Dilkens run again, is it Fred's turn to shine, will a Progressive Councilor step up, and where is Ken Lewenza?
The HWY 3 announcement from the Ford government has the RFQ happening in early 2021 which means early works happening likely before the Provincial election is a project that they hope puts Essex in play. This means that Doug will likely be in town to put his arm around whomever is running against Taras. Who the riding/party taps could become a bit more apparent later in the year. In the City, rumour has it that Percy might not run again, although that won't get announced this year an open seat in Windsor-Tecumseh would be interesting. As for Windsor-West, can Lisa be beaten?
Federally, Tracey Ramsey is looking like she is going to run again against Chris Lewis again in Essex. Brian is a lock for Windsor West until he retires IMO and Irek has been pretty strong through a first term that no one could have expected.