Well we are now facing the end of Month 1, and a short week (for those who are working) until what I imagine will be a quiet Easter.
The Provincial projections were released on Friday which certainly put things into some perspective.
We had our first passing's this week, now 3 deaths locally. These unfortunately will likely not be the last.
Izzy and I walk a lot and we have climbed Malden hill a number of times. What I have noticed is that our parks are not designed to allow for physical distancing. Most paths are not wide enough and choke points where they converge often result in groups of people (+pets) interacting.
Windsor's Janes Walks are going digital. I was planning on doing one for non-Sandwich Town parts of West Windsor. I am not sure how I am going to convert it at this point, something to ponder.
Starting Thursday (April 9th) GST payments from the government will be made to lower income households. Originally it was expected to arrive at the beginning of May but CRA managed to turn this around in 2 weeks.
Anyone have a roto-tiller I can borrow?
The transit debate in Windsor is certainly interesting. I do believe it is an essential service, (despite the unfortunate passing of a Detroit transit driver). Unfortunately, now that it is stopped it is likely to stay stopped as only the Mayor can reverse his decision unless Council votes to end the state of emergency. That being said the compensation the City offered is largely a joke.
Some interesting reporting on potential drug shortages in the US as a result of the virus outbreak, could create dangerous secondary impacts.
The urban/rural split in cases isn't a surprise but does create some interesting dynamics over the medium/long term with smaller communities being more at risk for "second wave" outbreaks overwhelming them.
April 9 the unemployment estimates from the Canadian Labour Force Survey will be released! I suspect Statistics Canada website will crash.
I have been reading Epidemics and Society which looks at the society impacts of major epidemics. Some sobering reading on the good and the bad that can emerge from an outbreak.
The longer this continues the less the immediate circumstances bother me. What continues to interest me, is what happens in the next few months and year as things return to "normal".

If the Federal Gov't runs a $200 Billion Deficit (equivalent to a world war spending), what does recovery look like? Many of the payments may be difficult to end politically (and morally), particularly in a minority government circumstances.
Given the philanthropic mobilization that is occurring to meet immediate and urgent needs, what happens afterwards when things return to "normal" and donors have already been tapped? We are 5 days into a new fiscal year, if major donors/corporate partners are tapped now what is left for "normal" operations in October or December?
Front line staff who are getting pay raises, will those go away when these heroes – as they have been called – recede back to just being a clerk or cashier at the grocery store.

If you want to help the government track cases, crunch data etc. you can sign up here. I've signed up and will do what I can.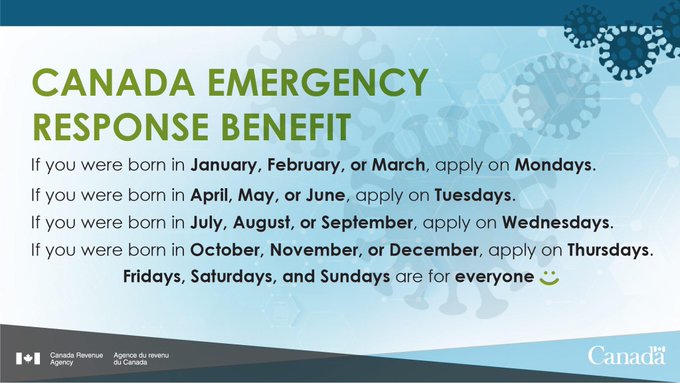 Registration begin this week for CERB, according to CRA they can process approximately 1 million applicants per day. So if you need these benefits apply on the proper day and hopefully they will process this payment ASAP.
It has become apparent to me that my Samsung S7 is dying a slow death. When plugged into a charger, while video calling the battery still drains at a surprisingly rapid rate. I am open to suggestions on new a phone options.
To the lady on my street who hasn't said good morning in response to me saying it 4 mornings in a row….