Happy Mothers Day!
Currently on Season 16 of the Simpson which means I am more than half done. As for lock down, that remains to be seen
Based on the map of above, June will see parts of Canada on fire. Red areas are well above average risk for wildfires, pink area just above average. If you look close you see Windsor-Essex is red!
A really interesting conversation with the CEO of Salesforce about what they doing to prep to bring people back to work.

They also created scenario planning video on the impacts of COVID and thinking about the reinvention of society for the "new normal". Largely a sales pitch but give insight to what they are telling large corporate partners about planning to bring people back to work.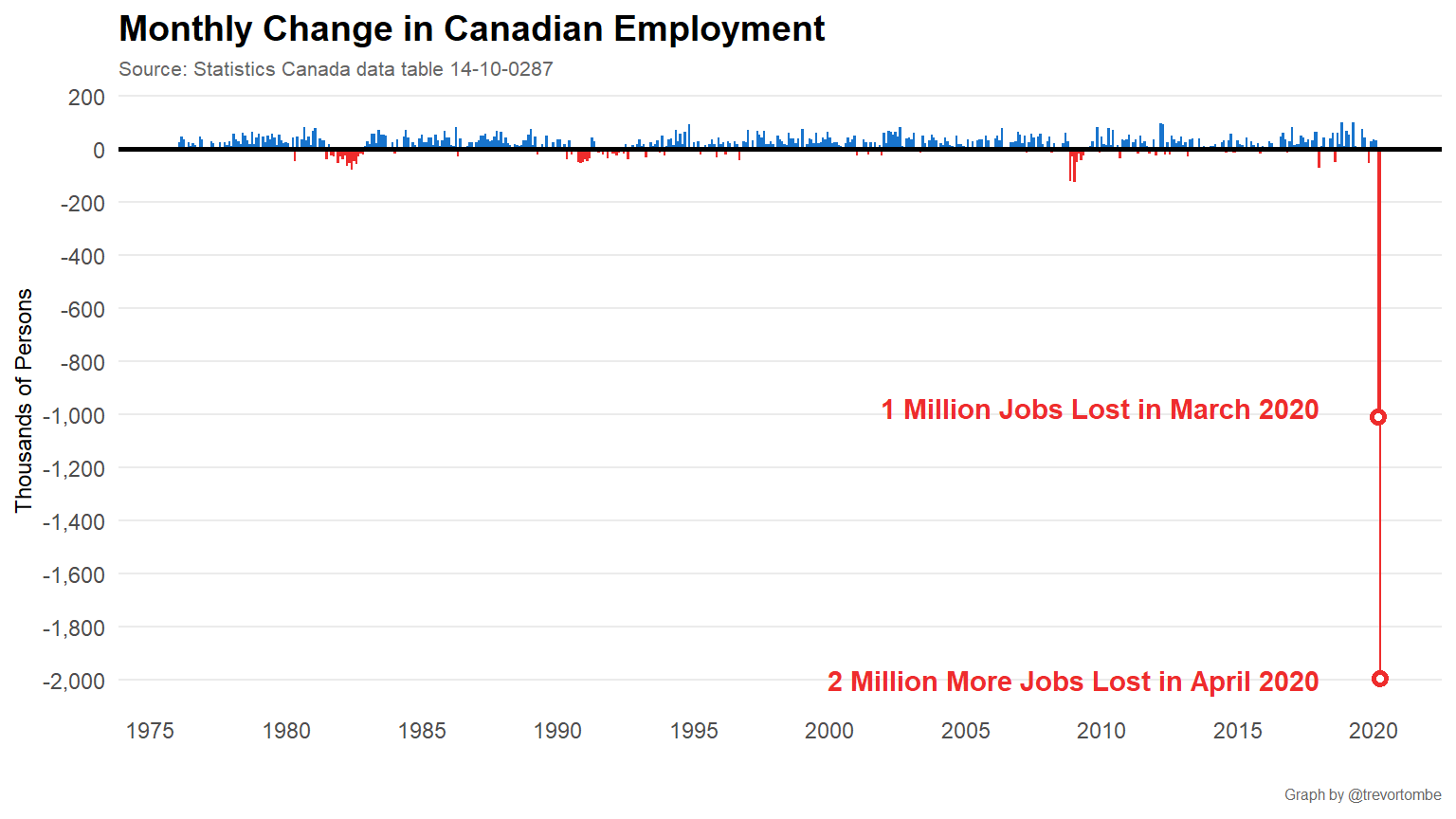 Job numbers came out on Friday – 2 million people have lost their jobs although predictions were closer to 4 million. Below are twitter takes of economists who know more than I do.

Short thread by Miles Corak on hours of work and how those have cratered. Hours of work is being argued that it is a better indicator of the magnitude of the impact of this recession
By Trevor Tombe looking at the employment rate impacts.
A pair of tweets by Mikal Stuterud breading down the job losses by income level while comparing to 2008/09.
Mike Moffat comparing recessions and sectors
Chart below from Keven Milligan breaks down of the 5.5M who were working pre-COVID mapping out where they went.
The Opportunity Insight institute at Harvard has been putting real time data from private companies for their research on Poverty and Opportunity Access in the US. They use COVID to illustrate the power of this data. Figures 12 in the paper linked above shows that government imposed shutdowns has smaller impacts on the economy as community collective actions had already taken place with people choosing to isolate.

Data also shows that US states that are opening up are not really opening up.
Welcome to new normal with approximately 10 cases per day until COVID fully burns out or there is a second wave.