Well it snowed…. it can't get much worse right? RIGHT?
Denmark is lifting its social distancing and other restrictions. Being one of the first countries to begin easing restrictions, keeping an eye on its infection rates as everyone tries to get a hair cut will be interesting.
The Art and Heritage Grant funding announcement was certainly interesting. Specifically since the decision was not made during a open Council meeting.

There is no mention of that funding in any council agenda that is currently posted (as of writing on April 19th).
The $60,000 that was allocated was -$45,000 of existing funding and another $15,000 coming from, I'm not sure where. Was it from savings from laid off parks, culture and rec staff? Was it savings from programs that City staff would have been run? Was it from some other program, service or reserves?
The decision was made by email voting of councilors. Two councilors voting against but no public justification – for or against is available.
An FIO request for all Council emails for the length of COVID may be required to see what business has been undertaken during this downtown as well as full positions of those Councillors.

One thing former Councilor Kusmierczyk did well was keep track of votes and justification on his blog. It is a shame that no other councilors is doing that since they have time and haven't been meeting at council.
Whatever happened to Councilor Holt's video agenda previews?

I think it is interesting the City is willing to do micro grants to artist as I see as precedent for grants for small businesses or charitable groups looking to support the community during COVID-19. $1000 to a restaurant to make meals for seniors provides just as much monetary value as a $1000 grant for poetry. Certainly this is something BIAs could ask for.
The fact that City Council hasn't met when numerous other communities have, is very disappointing and frankly bad for democracy.

This is some great mapping of Food Banks in the City of Windsor.

Also the food bank situation in this community is hot mess that is borderline scandalous in its duplication and competition. Think about this, pre-COVID there were 60 food banks and pantries in Essex County- that is 1 for every 6,666 people.

Speaking of waves and the broader impacts on the health care system, I saw this shared on social media.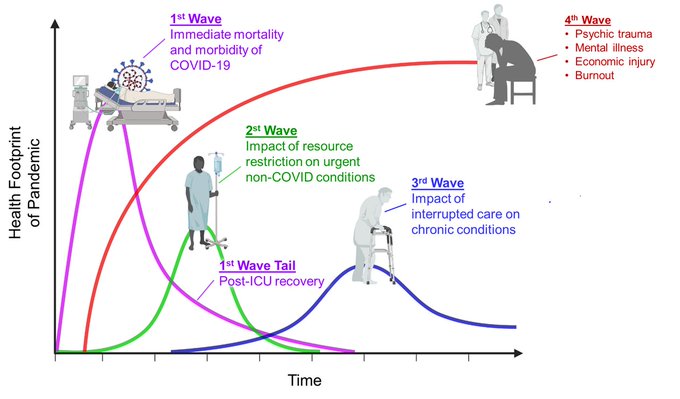 Cow in the pool! I have so many questions….
So we know bailouts are coming to businesses big and small, municipal governments, charities the question becomes when the money starts flowing how does it get used? Although there is certainly need, the question is whether these funds will help build a more productive future state or just keep us at a status quo that is likely unsustainable.
Above is a new looking at daily positive testing and the number of individuals who have passed away.
Anne Jarvis' piece this weekend was really good, we should have done more. What the City has done is outsource food access to the charitable sector – whether the Islamic Association, the Mission or United Way who are all organizing and allocating resources for various food delivery and access programs.
On the model above I stopped including the 1.25 model as after 25 days the doubling time explodes and it makes the actual line very hard to see. The next 10 days will see the 1.12 infection line converge with the actual.
Unfortunately due to COVID-19 I won't be doing my Jane's Walk of West Windsor – NOT Sandwich Towne. My notes will become a blog in the coming weeks to support the digital Janes Walk.
Despite days bleeding together, this week is going to be 5 days long which will be rough.