Victoria Day!
The latest episode of Council Conversations is available. This week I spoke with Mayor DeViet from Middlesex Centre, the last conversation in our sprint through London Middlesex! After the long weekend we return to the weekly release schedule with Libro Credit Union President, CEO and Head Coach Stephen Bolton. We get a business perspective on SW Ontario.
An interesting survey out of Toronto about the surge in Payday Loan's being used as a bridge to support people's finances through COVID.
THRIVE Amherstburg is hosting an online get to know you event on Monday to learn about their priorities in placemaking. A whole blog post could probably talk about this but I'll save that for another day.
This past week's school board meeting was certainly interesting to watch. You can view it here.

The discussion around the Capital Plans (as I wrote here) were the focus of my attention.

I came away from the meeting with two distinct tensions:

First admin, insisted that a significant amount of work was put into the businesses cases (that are not made public), conversations were happening that morning with their consulting planners to refine their submissions, and yet it was said time and again that submissions being made to the ministry where high level in nature so it does not commit the board to specific action.

At one point administration offered that Marlborough could be a new build or an adaptive reuse they weren't committing to a plan right now due to the high level nature of the submission.

I would note it states the following in the Ministry Guidelines (more on this below).
In other words, whatever was submitted was the primary and preferred path for administration and any change would require resubmission raising the specter of "losing funding". The "high level"-ness of submission is irrelevant in many ways. To anyone who has written a grant before you know that a funder doesn't like a bait and switch.

The degree (and despite insistence of administration) that this decision were tabled dropped a significant decision without enough information is also important to consider.

Second, they also highlighted how generic school footprints were provided which are actual generated by a government software tools which defines the size of the school, that population projects from last year's PARC document were the basis for much of this work and the capital priorities were the exact same the 2020 submission (less approved projects and some reordering).

Speaking of the capacity issues it seems there was a change in tone where in 2019/2020 when were asked about development in the downtown core and international student – they were not taken into account. But development when asked this year about development in LaSalle it was a driving factor for the Talbot Trail expansion – also a school that was built too small – just like the Marlborough and new West/South School will be based on projections.

So I was curious, what does this submission entail, unfortunately I couldn't find a notice or memo or anything on the GECDSB website on this issue. Luckily other school boards put the funding opportunity memo as communication elements of their meetings in a transparent fashion to provide trustees the broader context. You will also note that this school board albeit a smaller was able to turn this proposal around in a month, not at the 11th hour.

At other extreme, Toronto District School Board just keeps a running proposal list on their website. Their planning committee met on April 4 to approve their existing list for submission.

This submission has 2 parts

A written submission including detailed information on the rationale, proposed scope of work and demonstrate why alternate options are not feasible.
A excel spreadsheet template with enrolment and capacity data form.
There is a third optional submission if an Childcare or Early Ontario centre is being included in the school plan.

Given the above, it is perfectly possible that it takes a lot of work to compile these submissions but to me it seems like a lot of work should have already been done or in place and just needed to be updated. The school board apart of the PARC identified the same 7 schools and submitted them for consideration.

I would guess the Ministry isn't expecting War and Peace to be the equivalent justification for a new school. They provide a template in excel to handle the capacity and other numerical consideration as well as a tool to provide school footprint sizes.

This caught my eye in the ministry guidelines.
There were also submission questions around co-habitation with other boards,
What happened Tuesday night in my opinion. Trustees were forced to pass a capital plan without fully understanding it because it was table dropped (but not really) less than a week before it was due. As the business cases aren't public it is quite possible that decisions on the future of schools, neighbourhoods and communities have been made without so much as a word of consultation!
One more thing, it was mentioned in passing that the school board had tried to hire a planner, that process failed (for an unknown reason) and as result they are using an external consulting firm.

The consequence of that is a lack of internal expertise and no one at the board meeting who can answer questions in a technical manner.

My favourite billboard of the week.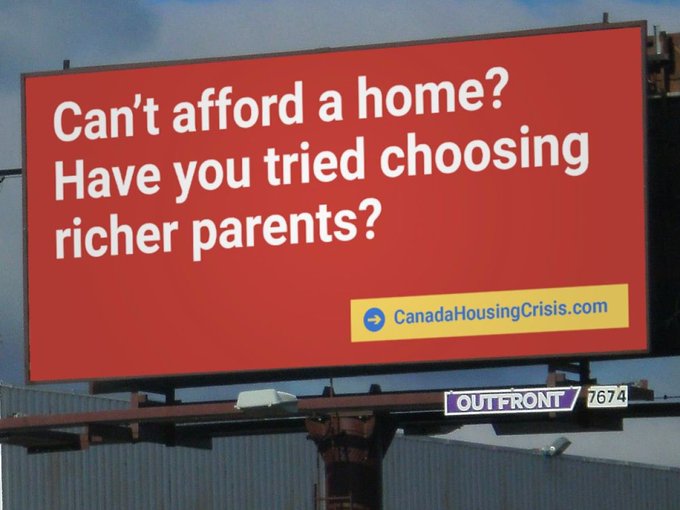 We seem to have hit something of an elevated plateau. Despite the province reopening plans, we are in a "Red Zone" rating based on the old standards.